Home
About Us
Yorkie Shoppe
Looking for Love
How You Can Help
Forever Ours
In Memoriam Page
Happy Tails
Thank You
Rainbow Bridge
Board of Directors
F.A.Q.
Volunteer Application
Non-Fostering Volunteer Application
Adoption Application
Request to Surrender
Links
Videos & Slideshows
RAINBOW BRIDGE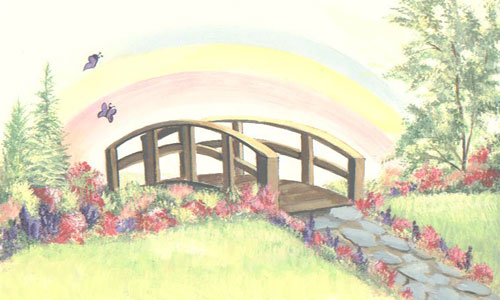 The Rainbow Bridge
Just this side of heaven is a place called Rainbow Bridge.
When an animal dies that has been especially close to someone here, that pet goes to Rainbow Bridge. There are meadows and hills for all of our special friends so they can run and play together. There is plenty of food, water and sunshine, and our friends are warm and comfortable.
All the animals who had been ill and old are restored to health and vigor. Those who were hurt or maimed are made whole and strong again, just as we remember them in our dreams of days and times gone by. The animals are happy and content, except for one small thing; they each miss someone very special to them, who had to be left behind.
They all run and play together, but the day comes when one suddenly stops and looks into the distance. His bright eyes are intent. His eager body quivers. Suddenly he begins to run from the group, flying over the green grass, his legs carrying him faster and faster.
You have been spotted, and when you and your special friend finally meet, you cling together in joyous reunion, never to be parted again. The happy kisses rain upon your face; your hands again caress the beloved head, and you look once more into the trusting eyes of your pet, so long gone from your life but never absent from your heart.
Then you cross Rainbow Bridge together....
Author unknown...

Mia


Mia

07/07/20.

Mia has crossed the Rainbow Bridge. Our sweet and loving tiny little girl, Mia, just couldnt fight through her much needed surgery today. She was doing great at first, but the doctor said she quickly took a turn for the worst. They were able to bring her back after losing her once, but she couldnt hang on. She lost the battle and has moved on to the Rainbow Bridge.

Mia was a special pup who endured a long cruel life. She was recovering and progressing back to health while living with us. We gave her the best life we could provide to show her that she was truly loved and cared for. We have peace in our hearts that she lived a great life in our home, albeit much too short. You know this is part of the job when you sign up to foster, but it does not make it any easier. Run and be free Mia, for you will never be confined and treated cruelly again. Love and miss you already.
Top of page

Rest In Peace sweet Loki. You will be missed so much

Loki FO

6/13/20 It is with a heavy heart we say goodbye to our sweet forever ours Loki. Sometimes though, no matter how good and how sweet you are, life just isn't fair. Loki, at 12 years old, somehow found himself in the local shelter and had no idea how that happened and what would come next for this sweet senior boy. Loki got lucky and he was adopted, but his luck didn't last. For some reason, Loki seemed to be having some trouble pleasing his new mom and dad. He couldn't get it that he was supposed to do his business outside and not in the house. His new mom and dad took him to the vet thinking he had a serious medical issue. The vet said he would need blood work done. His mom and dad declined that, saying they couldn't afford it. Instead they took Loki back to the shelter.

That was when he was rescued by United Yorkie Rescue. He had that much needed vet care and sadly his blood work showed Loki was in Kidney failure and the prognosis was not good. His levels were so high that adoption was not an option. At least Loki got lucky, his foster parents were going to keep him and care for him until the end. And for a year and 2 months that is exactly what they did. Loki forever mommy gave him Sub Q fluids every other day, he got supplements for kidney health, and he was put on a diet with the appropriate Rx food. He was taken such good care of, that although still high his kidney levels even went down a little. But no matter what they did, that disease was not going to give up. Loki was getting sicker and he started to show serious signs of cognitive impairment. He was pacing and circling for hours at a time. He didn't want to eat and sometimes at night he would wake up screaming and crying. Every suggested treatment and supplement was not helping or slowing down the progress. Finally, his foster parents knew his time had come. Last night he has been awake all night. He was crying out and whining and pacing throughout the whole night. Even when he was lying down for whatever short minutes he does lie down, he barked out or whined. He then developed diarrhea. He was not eating and his life has lost all joy. There was no more quality of life for this fellow anymore. His time had come and Loki was gently put to sleep in the loving arms of his foster mom. Loki is now running free and happy over the rainbow bridge.
Top of page
Billy Bob

UPDATE 05/18/2020: There is very sad news on Billy Bob. Billy saw the vet today on an emergency basis due to his delicate health and his many medical conditions. Although there were many medical issues going on with him, the most pressing issue was the deep, gaping infected wound on his neck. However, the vet suggested that due to the fact that Billy has had trouble in his foster home eating and opening his mouth, it was necessary to do an exam of his mouth and jaw. Due to his significant heart murmur, Billy was unable to undergo general anesthesia, but he was given light sedation to keep him comfortable. Even under sedation it was difficult to open his mouth, and it was subsequently determined that whatever event caused the deep ulcerated open wound on his neck also broke his mandible or back end of the jaw. That is why Billy had such difficulty eating, and the repair would be major surgery, which would be risky even for a healthy young dog, but with Billys heart murmur and his emaciated condition, he could not withstand nor survive such a complicated surgery. The decision was made to help this little one to the Rainbow Bridge, which was heartbreaking for those who championed rescuing him from the shelter and to the many donors who stepped up to donate to Billy's medical care.

United Yorkie Rescue is so appreciative of our angel donors for without you and others like you, we would be unable to continue to rescue and rehabilitate other little needy dogs like Billy Bob. Billy, your life did matter. And your strength of character that sustained you for weeks and possibly months while you were in pain and slowly starving to death was a testament to you and other animals who suffer at the hands of humans. RIP Sweet Boy - you will never ever be forgotten. May we all remember that .....Animals have no voice. They can't ask for help. They can't ask for freedom. We are their voice. If you see something - say something. Speak up for animals and be heard..........
Top of page
Tobias

05/07/2020

Dogs Leave Pawprints on our Hearts... such a true statement. Tobias was a quirky boy who wanted what he wanted and things had to be just his way... but he gave so much love in those sweet eyes of his. He was so happy to see you come in the door each day.... and even though he did not want to be picked up... he was able to show his love to you each and everyday. He will be missed but never forgotten. He passed away in his sleep. Until we meet again over the rainbow bridge...
Top of page
Zekie Ray

4/13/20: Zekie Ray crosses the Rainbow Bridge today. He had severe heart issues and to top it off lymphoma cancer in his throat . Normally to treat the cancer would be aggressive steroid therapy , but due to his Heart we couldnt do that. He stopped eating so we had to let him go to the Bridge.
Top of page

Rest In Peace Rosie. You will be greatly missed

Texas Rosie

4/6/20 Rosie was adopted in January 2013. This tribute to Rosie came from her wonderful forever mom. Today, my sweet Rosie passed away suddenly of congestive heart failure. Rosie was a puppy mill survivor who brought so much joy to my life. I liked to call her "an old soul" because the love and appreciation Rosie had for her life was indescribable. She always had this sweet smile on her face and love in her eyes. My life is going to have a big void without this precious fur baby.

Until we meet again Rosie, my love will always be with you.

I want to thank UYR and say how grateful I am that you brought Rosie and me together. She was so precious and I am going to miss her more than I can begin to put into words. RIP Sweet Rosie. You left us knowing love and happiness.
Top of page
SMores aka Ziggy

3/18/20 Sadly today we had to help Smores to the Rainbow Bridge. He was in liver failure and had a massive infection. There was no way we could help him recover from this. Rest in Peace sweet Smores!
Top of page
Eli

3/16/20 We accepted Eli, a little stray, into rescue today with the hope that we got to him in time and could help repair all that was wrong with him. However this poor boy was discovered to have serious kidney and liver issues and an ultrasound of his liver showed one large and multiple small masses which are likely malignant. He was given a body score of 2 out of 9 and was suffering with eye infections, possibly brought on by untreated dry eyes and ulcers. We had no real choice today than to help Eli to the bridge. We wish we could have gotten this sweetheart sooner, but are not always in time. Rest in Peace sweet boy.
Top of page

Haven

Haven

09/19/2005 - 03/03/2020

My Haven came to me 10 years ago. She was in a horrible puppymill, in Wisconsin, for 4 years. I was the Lucky One, because I became her foster Mom! Of course, it didnt take me long to adopt her.

For the 10 years Haven was with us, she was glued to my side. If she couldnt see me, she would bark until I came into view. I so miss her bark... Haven passed away today in the arms of her momma and daddy.

We miss you sweet girl...You will forever be in our heart, mind and soul.

Love you Always!

Your Momma
Top of page
Molly Noelle

2-27-20 Sadly today we had to help Molly Noelle to the bridge. Her tumors were growing so markedly and causing her pain. We are all heartbroken because she deserved more of a life than we were able to give her. Thank you to all who helped us in the fight to save her life.
Top of page
Dyna House and Harley House

In Loving Memory of Dyna House and Harley House
Top of page

I am at peace now. Thank you for trying to save me.

Lottie

11/30/19 Poor Lottie. It was worse than we thought. Nothing went right for her. We knew she was blind and her skin was bad, but the wasn't the issue. Dogs do great without sight and skin issues can be fixed, but then the medical list of problems went from bad to worse. At one time someone likely botched a surgery and severed her sphincter muscle. She had no control at all of her bladder or bowels and was constantly dripping and oozing a bad smelling liquid. She couldn't have a bowel movement or urinate unless it was manually expressed by her foster mom or the vet. She had mammary tumors that most likely were cancerous. She had a tumor on her neck and probably had a heart issue. We had hoped surgery would fix most of her issues, but that was not to be. There is no way to replace a sphincter muscle. And without that she could never be fixed, and at her advanced age of 14 years or more she had no quality of life. It was likely she would have died in the shelter from the backing up of urine and stool. We rushed to save her and we did our best, but we couldn't save this one sweet girl. This little senior baby didn't have a mean bone in her body, she didn't deserve what was happening with her. As much as we wanted and tried, we couldn't save her, but she was not going to pass from this life alone. United Yorkie Rescue and her foster mom gave her three days of good food, lots of care, a warm bed, and lots and lots of love. She passed in the loving arms of her foster mom.

Lottie, sweet girl, may you Rest in Peace. We had hoped we could save you, we tried, but it was not meant to be.
Top of page

I am at peace now. Thank you for trying to save me.

Alvin

11-14-19 Sadly, Alvin decided it was time for us to end his suffering. We graciously held him as he was sent off to Rainbow Bridge. No more seizures. No More damage from his trauma. Now full of energy and whole to enjoy his time with our other fosters at Rainbow Bridge. A piece of my heart is with you sweet boy. Run free Alvin!
Top of page

Sweet Finlee Joy. You will never be forgotten. In our hearts forever.

Finlee Joy

11-6-19 We have sad news to share. Our tiny puppy Finlee Joy has crossed the rainbow bridge. This tiny girl just had too many obstacles for a tiny puppy to overcome and it is with many tears and profound grief we now must share this news. We had her a brief 12 days but during that time we (ALL OF US INCLUDING YOU) tried to move heaven and earth to save her but sadly not all can be saved. We knew she had a liver shunt and neurological symptoms but those are not all that uncommon in shunt puppies and we hoped surgery would correct everything. It was when her surgeon suspected other issues we had Finlee seen by a Veterinary Neurologist. We stayed hopeful but Finlee was found to have congenital brain issues including hydrocephalus and a small cerebellum. These can sometimes be managed but Finlee's symptoms became severe and she was on the highest doses of medicine we could safely give her. She was in pain, seizing and spinning continuously and had little hope of improvement or survival so we had to make the hardest and most painful decision of all.....to release her from her suffering. It's on days like this we all feel defeated and as though all we do counts for naught but Finlee had a shot and we chose to try to give her a chance at a good life. She would not want us to give up but rather to dry our tears, put on our rescue armor and go save another. A profound thank you to everyone who prayed for her, shared her story and donated. You are Finlee's true heroes. Heaven will shine just a tiny bit brighter tonight. We know that she is smiling down on us all and blowing us gentle puppy breath kisses from heaven where she is whole and released from her suffering. Rest In Peace Finlee Joy. You were much loved by us all.
Top of page
Oscar

10/15/19 Sadly today we helped Oscar to the Rainbow Bridge. He began having seizures back to back that could no longer be controlled with medication. Rest in Peace dear Oscar...you were loved at the last and hope you felt that love from your foster mom who fought so hard to get you well.
Top of page
Sebastian Issac

10-13-19

Sebastian Issac passed over the rainbow bridge today. He came into the rescue after he was saved from a kill shelter. He fought hard but was so small and his kidneys were falling him. But his foster mom gave him all the love she could in his final days. He knew he was loved. And now he is a peace able to run and play with all the other babies who have passed before him.
Top of page
Benny

09/30/19

My heart is breaking today my sweet Benny Boo crossed the bridge. He was a precious boy and such a blessing. I am so happy that he is no longer in pain or confused. He is now able to run and play and enjoy his everafter. Thank you to everyone who sent him love and support. You are so appreicated.
Top of page
Derby

9/23/19 Sadly Derby was helped to the Rainbow Bridge today. His condition worsened and he was found unresponsive the previous day. He was evaluated at an emergency clinic and seen by his neurologist who agreed it was time to let him go.
Top of page
Peanut

9/4/19 Sadly today we had to help Forever Ours Peanut to the bridge. She had developed bladder cancer and despite medication began to fail in the last week. Rest in Peace Peanut...you had 5 years in rescue and were loved every minute of that time.
Top of page
Missy WI

8/30/19 Sadly Missy had to be helped to the bridge today. Rest in peace Missy and run free and healthy again.
Top of page